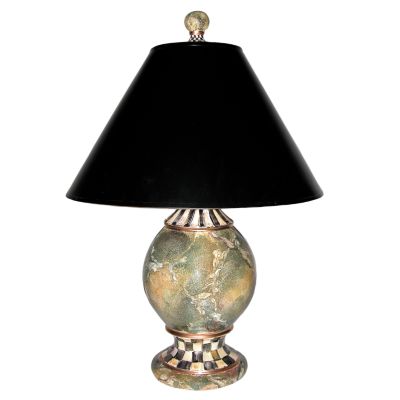 Click or pinch image to zoom.
Cheltenham Globe Lamp
$495
Product # 04 13120 045
Feel free to traverse the world in search, but we think our Cheltenham Globe Lamp is as fetching as you will find anywhere. Handsome from any distance, the elaborate splendor of the Cheltenham patterns hand-painted onto this curved ceramic silhouette emerge upon closer inspection. The Courtly Check® and Stripe palette incorporates a dash of rich jewel tones into each brushstroke. Likewise, faux marble is a multicolored, many-layered creation. After texturing hues of blues, greens, violets, and yellows with natural sea sponges, artisans use tools as unconventional as bird feathers to sculpt the veins that give marble its unmistakable cast. Whether your travels take you to the ends of the earth and back, or just around the corner, the textured elegance of a Cheltenham Globe Lamp in your entrance hall will welcome you home with a glow of worldly warmth.
See the Details tab above for more information.
Cheltenham Globe Lamp
$495
Dimensions: 7.5" dia., 17" shade dia., 25" tall
Materials: Handmade and decorated majolica with faux marble and gold lustre embellishments, and black hard shade. U.L. tested and approved. (100 watts or smaller, 3-way, 120V type A lamp). Pieces will vary due to the handmade nature of each product.
Care and Use: Lighting