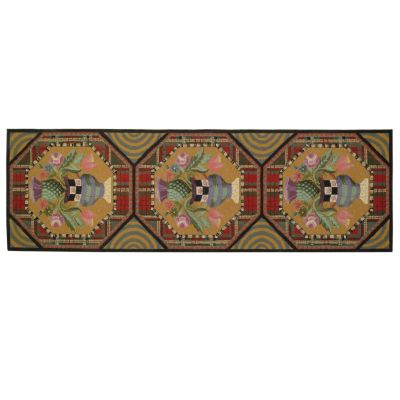 Torquay Vase Rug - 2'6" x 8' Runner
$425
Product # 12 350 03021
If you've ever suspected your floors might be jealous of the adornments afforded to tabletops, here's the ticket to restoring household peace. Distinguished without being the least bit stuffy, the Torquay Vase Rug is a study in tradition with a twist. Set in an eye-catching 2′6″ × 8′ runner, we've married a timeless tartan pattern with several of our own classic elements—a Courtly Check® border, a Torquay Vase of spring flowers, and our signature thistle. Introduce the Torquay Vase Rug to your home and it might turn even the most stoic of granite countertops green with envy.
See the Details tab above for more information.
This item is currently on backorder.
We expect availability on 10/6/2014.
Dimensions: 2'6" wide, 8' long
Materials: Hand-hooked, 100% wool. Color fading can occur if exposed to direct sunlight fo r long periods. Rotate the rug once a year for even wear. Use rug protectors un der legs of heavy furniture to avoid flattening piles. Do not pull loose ends; clip with scissors. Use of an antiskid pad is recommended. Professionally clean only. Vacuum regularly to preserve original sheen. Blot spills immediately wit h a dry, absorbent cloth. Stains may be spot cleaned with a mild, clear deterge nt and lukewarm water. Pieces may vary due to the handmade nature of each produ ct. Imported.