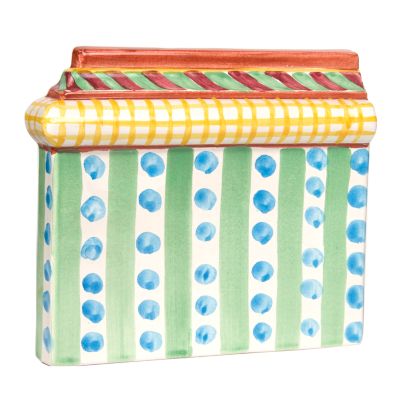 Click or pinch image to zoom.
Baseboard Stop End Left - Madison
$44
Product # 06 16121 009
Our Madison Tiles were inspired by the smokestacks, riverboats, and farmstead life of the Indiana town where one of our founders grew up among Southern Belles and pet pigs. These red clay tiles are hand-painted with checks, spots, stripes and rows of tall cornstalks as far as the eye can see. Whether its a 18th-century farmhouse or a high-rise penthouse, Madison Tiles offer to grace your home all the heartland charm of their namesake.
Tiles are sold individually. Image may display multiple tiles to show variations in hand-painting.
See the Details tab above for more information.
Baseboard Stop End Left - Madison
$44
Dimensions: 8.25" wide, 7.25" tall
Materials: Handmade, hand-painted red clay, glazed with Simply White ceramic glaze, decorative effects, hand-painted with china paints. Avoid exterior installation in climates with freeze/thaw concerns, as clay is absorbent and may freeze and crack in these conditions. We recommend professional installation. Our complete tile collection can be seen in our retail stores and at select tile showrooms. Piec es may vary due to the handmade nature of each product. Imported.