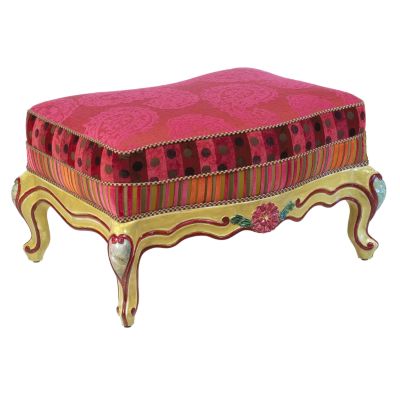 Click or pinch image to zoom.
The Diva Ottoman - Pink
Was: $2,275

Now: $1,137.50
Quantity
Gift Wrap N/A
We're sorry, but this item is no longer available.
Product # 02 225 1104
Would it be presumptuous to call this regal rest a throne for the toes? We think not, as the unabashed drama and sumptuous comfort of our Diva Ottoman have it earned it the title. Equally divine as a separate seat or snuggled up next to our Diva Chair, this ottoman has a delicately hand-painted and rubbed wood frame carved into undeniably curvy curves. Sink your slippers into the upholstery of cotton-linen paisley and geometric velvets in a luxe palette of rubies and roses set off with signature MacKenzie-Childs trims, and you'll understand why this pretty prima donna demands and gets your undivided attention.
Please note that stock availability of sale items may be limited.
All sales are final on this discontinued item.
Learn more about our furniture.
See the Details tab above for more information.
Approximate Dimensions: 29" long, 18" tall, 21" deep
Materials: Upholstered in cotton and geometric scuplted velvets, the Diva Ottoman sits on a hand-painted and rubbed wood frame. Pieces will vary due to the handmade nature of each product.
Care and Use: Ottoman-Diva, Pink