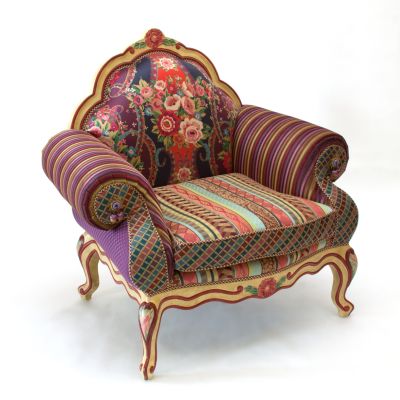 Click or pinch image to zoom.
Aria Chair
Was: $4,975

Now: $2,487.50
Quantity
Gift Wrap N/A
We're sorry, but this item is no longer available.
Product # 02 247 6312
A refined, dramatic performance, vividly colored in deep, jewel-toned blue, rose, plum, and gold. Richly textured in velvet and print fabrics. Down, feather, and foam cushion. Boldly shaped, handcrafted, hand-painted hardwood frame. Pair it with the companion ottoman and cushion. Sing on!
Please note that stock availability of sale items may be limited.
Learn more about our furniture.
See the Details tab above for more information.
Dimensions: 46" wide, 42" tall, 33" deep
Materials: Hardwood frame. Hand carved, hand-painted with artists colors and hand rubbed. Velvet and print upholstery weight fabrics with imported trims. Wood should be cleaned with a soft, dry cloth. Fabrics should be spot cleaned only. Pieces will vary due to the handmade nature of each product.
Care and Use: Furniture