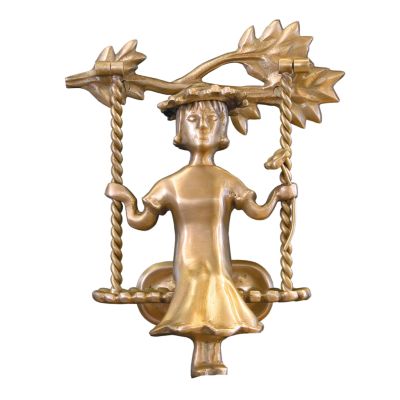 Mrs. Powers Door Knocker
Was: $150

Now: $75
Quantity
Gift Wrap
We're sorry, but this item is no longer available.
Product # 03 210 0010
Bring back the innocence of carefree summer days spent on a homemade swing under the old oak tree. Playful and charming, our Mrs. Powers Door Knocker is sure to bring a smile to your visitors' faces. This sturdy brass knocker features a swinging lass with an eternally sunny disposition to greet guests with a grin.
Please note that stock availability of sale items may be limited.
See the Details tab above for more information.
Dimensions: 7.25" wide, 9" tall, 4.25" deep. Weighs 4.4 pounds.
Materials: Solid brass with and antique finish. Includes knocker, door plate, and four screws. Made in India. Gently wipe dry with a soft cloth. Do not use brass cleaner. Please check clearance between doors before assembling.