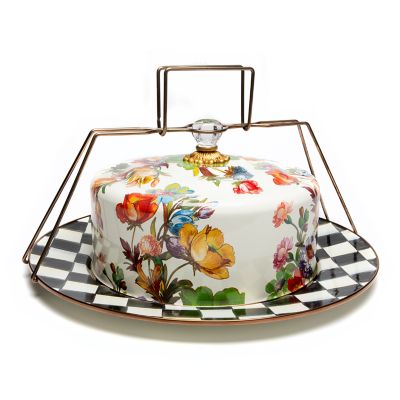 Click or pinch image to zoom.
Flower Market Cake Carrier - White
$170
Product # 08 89420 95
The White Flower Market Enamel Cake Carrier is sure to make an impressive entrance at your next bring-a-dish dinner. Each one is color-glazed and decorated with hand-applied fanciful botanical transfers that recall a lush English garden in the peak of summer. For signature MacKenzie-Childs style, the top rests on a Courtly Check® platter. Not just for cakes—everything from cookies to hors d'oeuvres or even a special present can be wrapped up, transported, and presented in this fabulous, garden-fresh cake carrier.
Learn more about our enamelware.
See the Details tab above for more information.
Dimensions: 16" dia., 7" tall; dome: 10.5" dia., 4.5" tall (not including knob)
Materials: Heavy-gauge, hand-glazed steel underbody embellished with hand-applied floral t ransfers. Rim, clamp, and handle are bronzed stainless steel. Knob assembly inc ludes brass bobeche and glass finial. Hand-wash with mild soap and dry immediat ely. Our enamelware exceeds both federal food safety regulations and California 's Proposition 65, the strictest environmental safety standards in the U.S. Han dle enamelware with care, and discontinue use for food service if it becomes ch ipped, cracked, or broken. Pieces may vary due to the handmade nature of each p roduct. Imported.
Care and Use: Enamelware