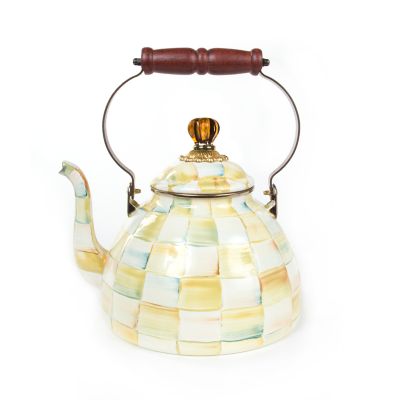 Click or pinch image to zoom.
Parchment Check Enamel Tea Kettle - 3 Quart
$135
Product # 08 89236 140
Our iconic enamelware tea kettles make their debut in Parchment Check. Ample bodied, exquisitely detailed, and just plain gorgeous. you may find yourself leaving this charming piece on the stovetop for kitchen beautification, or place it on display filled with fresh-cut flowers or greens. A perfect gift.
Learn more about our enamelware.
See the Details tab above for more information.
Approximate Dimensions: 9" base dia., 4.5" lid dia., 13" tall
Materials: Heavy-gauge, hand-glazed steel underbody with hand-painted Parchment Checks, rimmed in bronzed stainless steel. Wood handle. Lid is topped with an amber-coloredglass knob and brass hardware. Pieces may vary due to the handmade nature of ea ch product. Imported.
Care and Use: Before using your kettle for the first time, remove all labels and wash thoroug hly. Use low to medium heat only; never boil dry, as this could cause damage to both your kettle and cooktop. Do not use on induction cooktops. Hand-wash with mild soap and dry immediately to preserve the finish. Our enamelware exceeds bo th federal food safety regulations and California's Proposition 65, the stricte st environmental safety standards in the U.S. Handle enamelware with care, and discontinue use for food service if it becomes chipped, cracked, or broken.