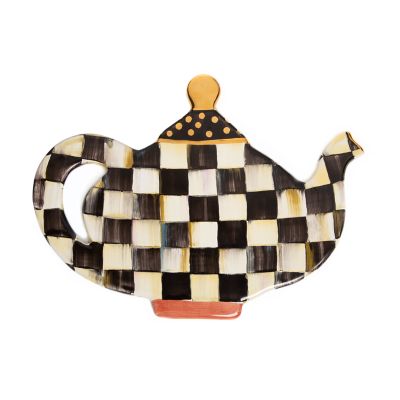 Courtly Check Teapot Trivet
$120
Product # 01 36041 040
This delightful silhouette adds cozy slow-paced charm to your life on-the-go kitchen. Handmade, hand-glazed, hand-painted ceramic with our signature checks, the Courtly Check® Teapot Trivet protects your table, decorates the wall, and reminds you to take time to enjoy life's simple pleasures. A beautiful juxtaposition of ivory and onyx, our deceptively simple signature checks reveal an intricate spectrum of jewel-toned colors. Handmade, fired, glazed, fired again, hand-painted, fired again, and embellished with lustre, each piece is stamped by the artisans involved in its creation.
Learn more about our ceramics.
See the Details tab above for more information.
Dimensions: 9.25" wide, 12.5" long
Materials: Handmade, hand-painted ceramic with gold lustre embellishments, and cork surfac e protector on the back. Hand-wash with care; do not submerge in water. Pieces may vary due to the handmade nature of each product. Handcrafted in Aurora.
Care and Use: Ceramics