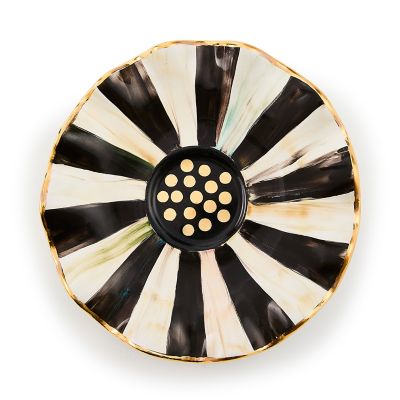 Click or pinch image to zoom.
Courtly Check Saucer
$78
Product # 01 11191 040
Sweet and petite, the rippling rim of our Courtly Check® Saucer looks picture-perfect with the matching cup. A beautiful juxtaposition of ivory and onyx, our deceptively simple signature checks reveal an intricate spectrum of jewel-toned colors. Handmade, fired, glazed, fired again, hand-painted, embellished with lustre, and fired again, each piece is stamped by the artisans involved in its creation.
Learn more about our ceramics.
See the Details tab above for more information.
Dimensions: 6" dia.
Materials: Handmade, hand-painted ceramic with gold lustre embellishments. Hand-wash with care. Pieces may vary due to the handmade nature of each product. Handcrafted i n Aurora.
Care and Use: Ceramics