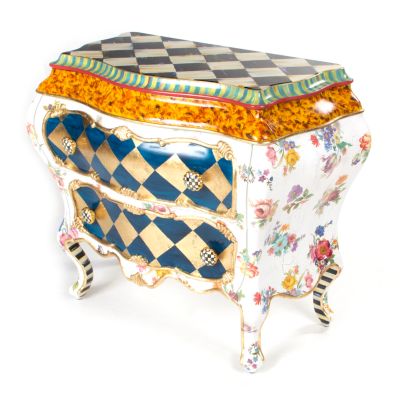 Pierrot Bombay
$5,400
Product # 02 241 2222
Trusting and pure of heart, Pierrot is another figure from Commedia dell'Arte. His white face and costume suggest his purity and unfailing loyalty. Pierrot is said to be enamored of the lovely Colombina, and we think they make an awfully nice pair. Our Pierrot Bombay is hand decorated with ceramic knobs, gold leaf, floral decals, faux tortoise, and a complement of MacKenzie-Childs specialized surface treatments. Two drawers. Hand-painted in Aurora.
Learn more about our furniture.
See the Details tab above for more information.
This item is currently on backorder.
Call for availability 1-888-665-1999.
Dimensions: 41.5" wide, 34" tall, 20.5" deep
Materials: Solid hardwoods, fiberglass, latex and acrylic paints, and composition gold lea f. Wipe and dust clean with a soft, slightly damp cloth. Pieces may vary due to the handmade nature of each product. Imported frame, hand decorated in Aurora.
Care and Use: Furniture