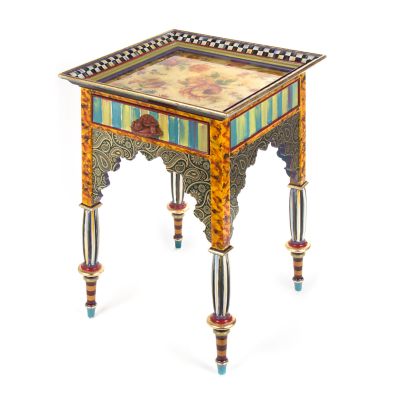 Click or pinch image to zoom.
Teteria Side Table
$3,695
Product # 02 246 8003
This tea table stands squarely midway between bohemian and opulent. Leave the plain scones behind; spice is the variety of life. Moorish architectural details, paisley decoupage, and golden accents, with floral decals reverse-painted on glass framed by a handsome border molding, adorn our Teteria Side Table. A terra cotta turtle knob opens the drawer, which has a surprise velvet cheetah lining inside. Hand-painted in Aurora.
Learn more about our furniture.
See the Details tab above for more information.
Dimensions: 18" sq. top, 27.5" tall
Materials: Paisley decoupage, golden accents, terra cotta turtle knob, and velvet cheetah lining inside drawer. Made in the U.S.
Care and Use: Furniture