Diorama Dining Table for 6
Details
https://www.mackenzie-childs.com/diorama-dining-table-for-6/226-4000.html
Promotions
Product Details
Seated at our Diorama Dining Table for 6, guests are treated to a three-dimensional bird's eye view of Cayuga Lake and the farmlands that surround our studio. The "diorama," hand-painted by our artisans on three wood layers, is protected by a clear glass top and framed in hand-finished cherry wood. The table rests on hand-glazed, hand-painted ceramic legs, also made here on the farm. Allow 16 weeks for delivery of this meticulously crafted masterwork.
Dimensions
54.125" wide, 89" long, 30" tall
Materials
Top is beveled glass and bordered in a cherry wood frame. Feet are ceramic. Interior landscape is hand-painted plywood panels. Pieces may vary due to the handmade nature of each product. Handcrafted in Aurora.
Care and Use
Dust with soft, clean cloth.
This item ships via white glove delivery. Please contact our customer service department with any questions.
Additional Information
Handcrafted Elements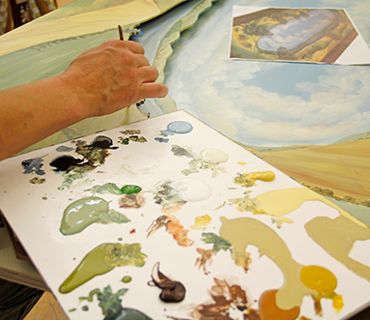 An artisan in our furniture decorating department works on the multi-layered landscapes that make up the diorama tabletop. The landscapes follow a general pattern, but are not meant to be exact copies; all of the painting is done freehand, so each table is a unique work of art.
There are four layers to the table. The sky is the bottom, and the final layer. The lake is the third; the fields are the second layer down; and the first layer has the trees, the barn, and the farm. Every little detail is inspired by the landscapes around us in Aurora, New York.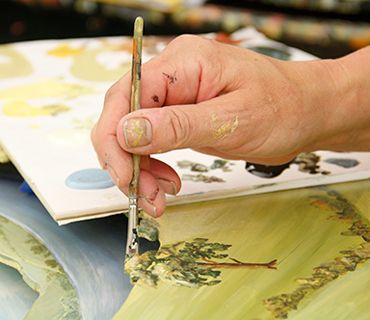 "I would say it takes me a total of 40 hours to paint the layers. You have to focus closely," says Sanna, a master furniture decorator who has painted several Diorama Tables. "When painting, the sense of rhythm is very important. Balancing the creative side with the productive side creates a very intense focus."
An artisan in our furniture decorating department works on the multi-layered landscapes that make up the diorama tabletop. The landscapes follow a general pattern, but are not meant to be exact copies; all of the painting is done freehand, so each table is a unique work of art.

There are four layers to the table. The sky is the bottom, and the final layer. The lake is the third; the fields are the second layer down; and the first layer has the trees, the barn, and the farm. Every little detail is inspired by the landscapes around us in Aurora, New York.

"I would say it takes me a total of 40 hours to paint the layers. You have to focus closely," says Sanna, a master furniture decorator who has painted several Diorama Tables. "When painting, the sense of rhythm is very important. Balancing the creative side with the productive side creates a very intense focus."