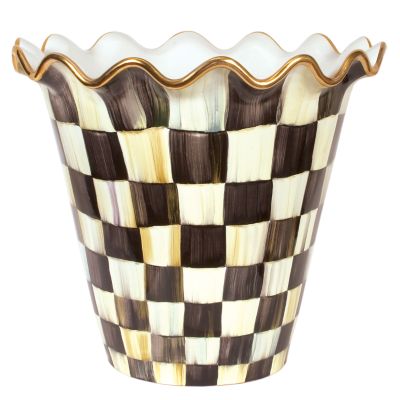 Click or pinch image to zoom.
Courtly Check Jumbo Flower Pot
$450
Product # 09 18129 040
Now, we love all our pieces equally, but when it comes to making a dramatic statement, bigger is fabulously better. Our Courtly Check® Jumbo Flower Pot offers an eye-catching pattern on a delightfully oversized jardinière. On a gently curved silhouette of clay, our artisans hand-paint Courtly Checks®, incorporating a dash of rich jewel tones into each brushstroke. The rim of this versatile pot is embellished with gold lustre to heighten the gorgeous design. Not just for flowers, the iconic pattern of our Courtly Check® Jumbo Flower Pot looks uniquely elegant in a Courtly Check® trio with matching 4" and 8" flower pots in a seasonal display.
See the Details tab above for more information.
This item is currently on backorder.
We expect availability on 6/9/2016.
Approximate Dimensions: 18" wide at top, 9" wide at bottom, 16.5" tall
Materials: Handmade, hand-painted ceramic with our signature Courtly Check pattern and gol d lustre embellishment. For indoor and warm-weather outdoor use. Do not allow t o freeze. Pieces may vary due to the handmade nature of each product. Handcraft ed in Aurora.